SuperLine Roof Gutters
Wavin SuperLine offers you a classic half-round profile ideal for large domestic and small commercial buildings.
Ease of installation
SuperLine is fitted with a 'Flexiclip' seal jointing mechanism, making it easy to connect gutter to fittings. Because the clip is flexed, rather than the whole component, this ensures a positive, permanently watertight joint.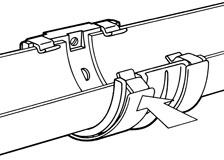 Size and colour
SuperLine is a 125mm (5") gutter system with circular 68mm downpipe available in black.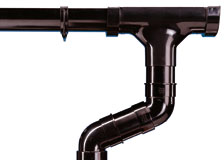 What's next?
Other gutter systems are available for domestic and commercial buildings offering a choice of profiles and capacities. To complete your above ground drainage systems you can also choose from Wavin's soil and waste ranges.