Indoor Climate Solutions
Experience the perfect blend of comfort and sustainability with Wavin's Indoor Climate Solutions. We provide advanced, energy-efficient systems that enhances the indoor experience while minimizing environmental impact. Our innovative technologies are rooted in over 60 years of expertise, highlighting our commitment to creating healthier, more sustainable living spaces.
Our tailored indoor climate solutions feature our market leading systems and products including underfloor heating/cooling, ceiling heating/cooling, heat interface units, mechanical ventilation with heat recovery, and electronic radiator thermostats.
All solutions work independently or as one integrated home solution controlled by the intelligent Sentio controller. Routed in over 60 years of experience, our technologies provide several benefits:
Improved energy efficiency
Low maintenance
More space and design freedom
Compatible with all floor types and coverings
Comfortable environments with even heat and less dust
Full zone control
Flexible solutions including installation and after sales support
Design and system selection support
Wavin's extensive experience in residential projects as market leader in Europe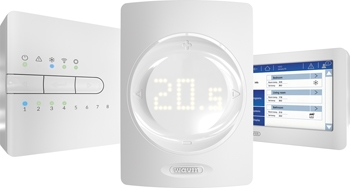 SENTIO our ultimate indoor climate solution
Wavin's Sentio redefines comfort and efficiency in indoor climate control. Leveraging cutting-edge technology, Sentio delivers the perfect balance of heating and cooling, tailored to your unique living space. This intelligent solution not only ensures a consistently comfortable environment but also contributes to energy conservation and cost savings. Discover the future of indoor climate solutions with Sentio.